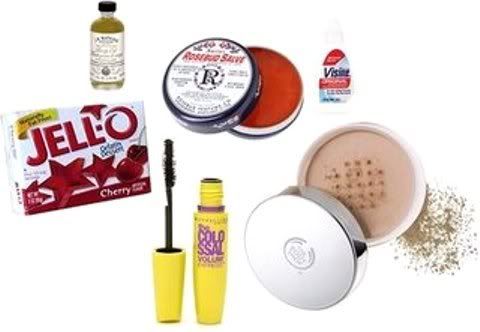 A round up of cheap, if somewhat unsual beauty products and how to use them to your best advantage.
my current list of multitasking products:

-Watkins' lavender skin oil
I use this as a moisturizer, it makes makeup go on so much smoother. I also put a drop in my hair to make it shiny and hold curl better.

-Smiths rosebud salve
the (obvious) but greatest: works for everything.

-visine
gets rid of redness in skin. good for your eyeballs too, pothead.

-cherry jello mix
mix a little powder mix with water and apply with a brush as a lipstain + bonus! it tastes good. : )

-old darker shade of powder from the summer months
use as a blush/bronzer and you already had it just sitting there!

-mascara
I have dirty blond hair and use this to darken my eyebrows after I do my lashes. Use whatevers left on the wand and lightly brush through your brows, then go back with a brow brush if you like.

A few that are expensive but worth it in my opinion:

-garnier fructis regenerating lotion / morning and night
-tressame conditioner / good for fine hair (use before you shampoo)
-clinique color surge eyeshadows / perfect shimmer w/out blinding yourself looking in the mirror
-almay long wear liquid eyeliner / just enough stay put vs. smudgeability
Anyone have a strange product or new use for and old one?